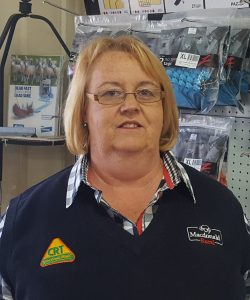 I have been involved in the rural industry since leaving school and Rural Merchandise has become a bit of a passion. I love solving problems and assisting customers to reach their goals. I also love fostering younger employees and seeing them grow to have the confidence and knowledge to be able to assist customers.
Being involved with Three Birds and a Bloke, organising the "Dry spell" respite events has bought me closer to the community and given me a broader understanding of farming in this area. Very different from where my experience has been around Oberon, Rockley, Young and Dubbo.
My husband and I have a small ASH stud and a few cows at Geurie and, in case you haven't guessed, I am a very, very keen gardener. However, not a very good one when there isn't any water in the dam.
Please come in to see myself and Lisa, even if you are just passing through. You can always have a cuppa or a chat. We would love to see you.
Don't hesitate to give me a call at any time on 0427 704 457. I am quite happy to take calls after shop hours as I know many of you don't get inside till then. Hope to talk to you soon and/or see you in the shop.
Email ros@macwool.com.au | Mobile 0427 704 457 |  PH (02) 6839 1844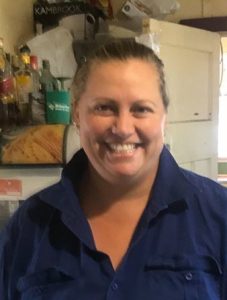 Lisa
Customer Service Representative
Lisa has spent most of her years in Bre. She was raised on a farm—fourth generation, so farming is in her genes. She has amassed a wealth of knowledge in a variety of enterprises; both meat sheep and sheep for wool production, cattle, goats, and some broad acre and irrigation farming. We know her for her warm and slightly cheeky smile, her relaxed demeanour and her practical nature.
Lisa is on hand at CRT as customer service representative. With her knowledge, practical nature, and great sense of humour, she is a great asset to the team.
"I think I've got more experience in tractors and machinery than people realise, she says. I spent seven years on the cotton, tractor driving, picker driving.. oils, greases, batteries… I know all about that sort of stuff"